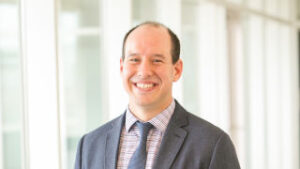 Dr. Pilkington's research focuses on questions in bioethics, where he is especially interested in conscience, moral responsibility, and the ethics of healthcare practice, and in moral and political philosophy, in particular on the concept of dignity. He lectures on practical ethical challenges in medicine and the practice of healthcare professionals and teaches courses in normative and applied ethics, including courses in ethical theory, bioethics, business ethics, environmental ethics, and political philosophy.
Dr. Pilkington currently serves on the Editorial Board of the Journal of Medicine and Philosophy and the Editorial Advisory Boards of HealthCare Ethics Committee Forum and Christian Bioethics. He is a Junior Scholar in Bioethics at the Paul Ramsey Institute, and holds appointments as Associate Professor of Medical Sciences in the Hackensack Meridian School of Medicine at Seton Hall University, Adjunct Associate Professor in the College of Nursing, and Affiliated Faculty in the Department of Philosophy.
Prior to joining the Seton Hall community, Dr. Pilkington served as the Director of Academic Programs at Fordham University's Center for Ethics Education, where he directed Fordham's MA program in Ethics and Society, Fordham's minor in Bioethics, and taught classes in Philosophy. Prior to that, Dr. Pilkington was Assistant Professor of Philosophy at Aquinas College, where he served as Chair. Dr. Pilkington is the winner of two Lilly Foundation Faculty Research Partnership Awards, the 2016 Aquinas College Outstanding Teacher Award, a 2015 Aquinas College Outstanding Scholar Recognition Award Nominee, the University of Notre Dame Outstanding Graduate Student Teaching Award, and the John B. Noss Prize in Philosophy from Franklin and Marshall College. He is also a member of Phi Beta Kappa.