Student Interns
Summer 2023
| | |
| --- | --- |
| Biotechnology High School | New York University |
| | |
| --- | --- |
| Hunter College | Central Park Medical College |
| | |
| --- | --- |
| SRM Institute of Science and Technology |   |
Late Spring Early Summer 2023
| | |
| --- | --- |
| Oakwood School | Trinity School |
Spring 2023
Riya Bajpai

Marshall High School

Ella Somaiya

Trinity School
Fall 2022
| | |
| --- | --- |
| Central Park Medical College | Brooks School |
| | |
| --- | --- |
| Dominican Academy | Drew University |
| | |
| --- | --- |
| McGill University | Rice University |
| | |
| --- | --- |
| Bucknell University | Hunter College |
Summer 2022
| | |
| --- | --- |
| Cornell University | University of Pennsylvania |
Spring 2022
| | |
| --- | --- |
| Saint Louis University | Vassar College |
| | |
| --- | --- |
| Johns Hopkins University | Vassar College |
Sibil Shibu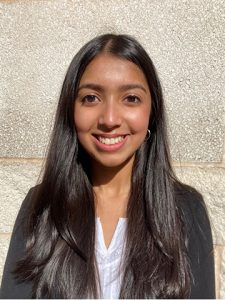 Sibil is a current junior at Saint Louis University pursuing a Bachelor of Arts in Bioethics and Health Care Studies. She is a future health care professional passionate about ethics and mission integration, the intersection between religion/spirituality and medicine, holistic health care, and systems ethics. Post her undergraduate graduation, she plans on pursuing graduate school for Bioethics. Her various research, internship, and volunteer experiences in the field of health care have allowed her to gain a deeper insight into the necessity of the interdisciplinary field of Bioethics to address contemporary challenges.
Grace Gallagher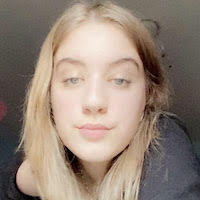 Grace Gallagher is a junior at Laurel Springs School, formally Dominican Academy. As a resident of New York City, she is very active in her local community through community service endeavors. She is interested in computational neuroscience, global health, and how bioethics plays into the study of these disciplines. Grace plans to study a combination of these fields in college and hopes to pursue an MD/PhD in the future. Through utilizing programming languages Grace conducts research in the fields of neurogenesis, neurodegenerative diseases, and public health policy. In her free time, she enjoys reading, trying new restaurants, learning languages, and playing volleyball, and tennis.
Claire Karlin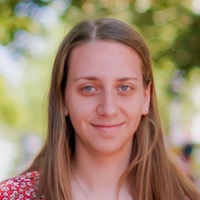 Claire is a sophomore at Vassar College studying Science, Technology, and Science (STS) and Economics. She is interested in the intersection of health, economics, and policy, which led her to bioethics. Originally from Washington, DC, she is also involved in the women's soccer team at Vassar, and enjoys hiking, running, and cooking in her free time. Through this internship, she hopes to further her knowledge and understanding of bioethical issues and provide her with the platform to be able to identify such ethical issues in public policy later in her career.
Iléana Lortz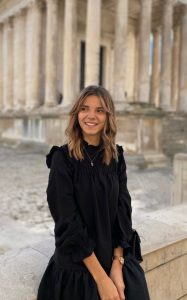 Iléana is a French native, currently enrolled at Neoma Business School, located in Reims,  East Coast of France. It has a reputation for being one of the most innovative English-speaking grandes écoles for management in the region. After studying French literature for several years, she decided  to pursue business school, being passionate about the intersection of business, society and education.
She has been involved with several solidarity associations including 
Les Amis de Romain,
 (friends of Romain) which helps young children to fight against rare skin diseases. Her role was to participate in camp education to inform the youngsters about the rare diseases and other health problems related to those. She was involved in training and educating children about rare diseases' impact on schooling and helped with fundraising events to advance medical research and the development of diagnostics and  treatments. 
Her role in the association as well as the health environment of children with rare diseases in France  made her reflect on the importance of health policies and bioethics. She is interested in bioethics education being aware that 
m
oral 
d
ilemmas 
c
omplicate 
the 
treatment of 
r
are 
d
iseases.
Han Zhang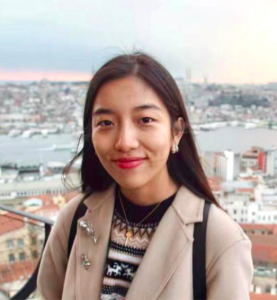 Han Zhang is a junior at Johns Hopkins University majoring in Public Health Studies and History of Science & Technology. She is currently spending her semester abroad as part of the Pre-Medical Program for Visiting Students at St Anne's College, University of Oxford. Han is interested in global health and humanitarian medicine, and has interned with Project C.U.R.E., Global Liver Institute, and Restart Center for Rehabilitation of Victims of Violence and Torture. As a research assistant at the Department of International Health of Johns Hopkins Bloomberg School of Public Health, she is co-authoring a book chapter on the history of global health governance. 

Han enjoys learning about new cultures and languages. After graduating from high school in China, she has studied in seven different countries across four continents. Outside of academic pursuits, Han spends her free time on hiking, drawing, photography, and recently rowing.
Sophia Corwin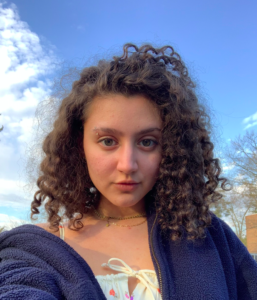 Sophia Corwin is a rising senior at Vassar College with a Science, Technology, and Society major and a Women's Studies minor. She grew up in western Massachusetts and has been interested in reproductive health and bioethics for quite some time. With a philosopher for a mother and a lawyer for a father, she has grown up debating ethical questions at the dinner table. Sophia plans to pursue a law career focused on bioethics and medical ethics. She hopes that this internship will help her gain insight into the world of bioethics research and advocacy. 
Cathy Bi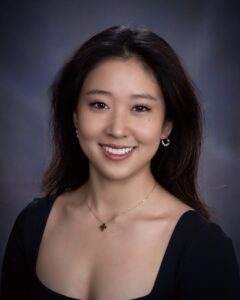 Cathy Bi is currently a graduate student at Columbia University studying philosophy and
education. She attained her bachelor's degree in philosophy from Boston College in 2022. Cathy was born in Beijing, China, then came to the United States for high school and college. She has immense interest in ethics, education, and the arts. Previously, Cathy interned and volunteered at various nonprofit organizations including the United Nations and the Interfaith Food Pantry Network. She focuses her studies on bioethics and practical application of moral philosophy, and hopes to gain more hands-on experience through this internship. In her spare time, Cathy enjoys the gym, reading, and cooking with friends.
Ayesha Ali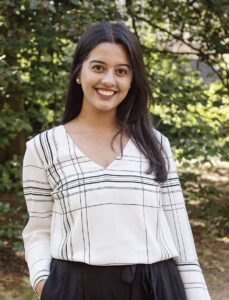 Ayesha Ali is a MBBS student at Central Park Medical College in Lahore, Pakistan. As a medical student with an entirely science-based curriculum, she has pursued an internship at the Global Bioethics Initiative to learn more about the intersection of bioethics and medicine. She has been incredibly active in her local community and serves as the head of the IFMSA chapter at her institution. Ayesha understands that to become a competent professional in the healthcare industry, one should never limit themselves to their medical curriculum – it is absolutely necessary to be aware of the humanitarian issues prevalent around you.
Claire Nesathurai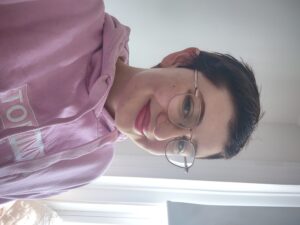 Claire Nesathurai is a rising sophomore at Vassar College in New York. She is majoring in psychology, with a specific interest in pursuing ethical questions related to mental and reproductive health. Claire's interest in bioethics grew during the COVID-19 pandemic when questions surrounding vaccine mandates and isolation periods arose. She hopes this internship will provide her with greater experience in bioethics research.
Tvisha Devireddy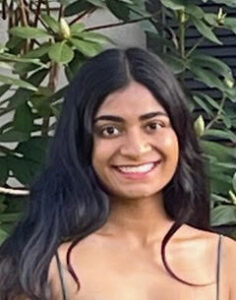 Tvisha Devireddy is a junior at the Brooks School. She plans to pursue both neuroscience and philosophy in at the collegiate level, and to work in the healthcare field as a medical professional. She is currently conducting research on molecules and pathways involved in neurodegenerative diseases. Tvisha believes that a thorough foundation in bioethics is essential for individuals, and ultimately institutions, to create a more accessible and equitable patient experience. She hopes to learn about the applications of bioethics from an interdisciplinary and multicultural standpoint through this internship. In her free time, Tvisha loves baking, photography, and playing squash and tennis
Ariel Schulsinger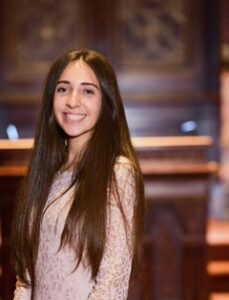 Ariel is a rising junior studying Global and Public Health Sciences at Cornell University, with minors in Business, Health Equity, and Health Care Policy. Ariel has cultural curiosity and aspires to increase public awareness of local and global health-related initiatives. Prior to commencing her studies at Cornell, she participated in the Global Bioethics Initiative in Bangkok while also developing an appreciation for the art of debate and the importance of leadership. During her free time, she enjoys the outdoors, the study and application of a plant-based diet, and identifying new opportunities for personal growth.
Lydie Ngoie
Lydie Ngoie is a doctoral student at Drew University in the Medical and Health Humanities program.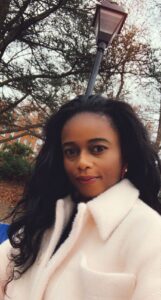 She earned her undergraduate degree in Health Services Administration from Africa University and her master's degree in Divinity from Drew University. Her areas of expertise include bioethics and health policy. Her primary goal is to investigate public and global health issues through the lens of bioethics. Her recent focus has been on integrating ethics into the real world through collaboration with organizations such as the World Health Organization and Médecins Sans Frontières.
Camille Taggart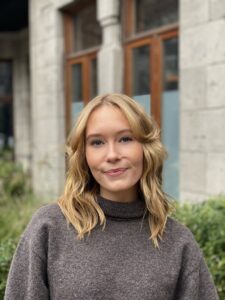 Camille Taggart is a third-year undergraduate student at McGill University. As an interdisciplinary student in McGill's Arts & Sciences program, she is completing a double major in molecular biology and philosophy. Camille has always been passionate about the ethics surrounding medicine and healthcare systems and is specifically concerned with the disparities challenging public health. Outside of her academic studies and BEI, Camille works in the mental health management system at Anishnabeg Outreach, a non-profit organization providing wrap-around resources to Indigenous populations across Canada.
Stephanie Kim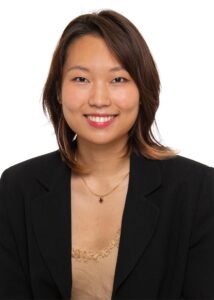 Stephanie is a junior at Rice University in Houston, TX. She is currently obtaining a B.S. in Biochemistry and B.A. in Philosophy on the pre-medicine track. Her interest in bioethics stems from her interest to pursue an M.D./Ph.D. in either microbiology or philosophy. Stephanie has been involved in atrial fibrillation research at the Baylor College of Medicine and nanoparticle delivery for pediatric brain tumor research at McGovern Medical School. Currently, she works at the Regenerative Medicine Research lab studying whole-heart engineering at the Texas Heart Institute. Along with her passion for cardiothoracic surgery and biomedical research, her interest includes the discussion of ethics in the areas of medicine and biomedical research. In her free time, Stephanie enjoys traveling, crocheting, binge-watching shows, and listening to true crime podcasts.
Angie Puglisi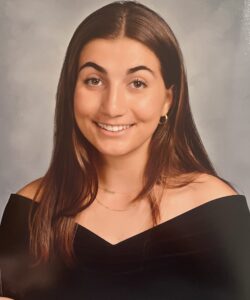 My name is Angie Puglisi, I am from New Jersey and I am a student at Bucknell University. I am a biology major and a legal studies minor and will be graduating in May 2023. After college, I want to pursue a career in bioethics and public health and potentially continue my education in the field. I am particularly interested in medical ethics and am excited to further my learning through this internship.
Faiza Ahmed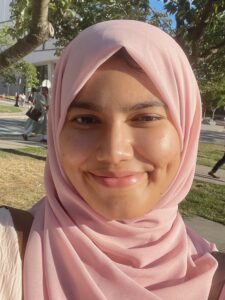 My name is Faiza Ahmed and I am from New York City. I am a recent graduate of Hunter College. I majored in biochemistry with a minor in Art History. Currently I am taking a gap year, where I am earning clinical and research hours. I plan to apply to medical schools in the near future.
Annika Raj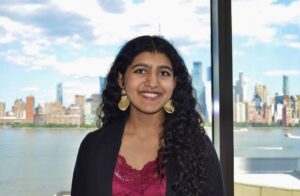 Both a Spring and Summer Intern
Annika Raj is a 14-year-old rising sophomore at Biotechnology High School, Monmouth County Vocational School District. She consistently demonstrates academic excellence, evident in her rigorous freshman year of high school. She was the editor-in-chief of her middle school newspaper and received the Best Student in Literacy award when she graduated in 2022. Annika is an active student of Shubanjali's School of Dance, learning and performing Bharatnatyam. She completed her Arangetram in the summer of 2023, a rigorous three-hour solo-dance performance showcasing her knowledge accumulated over the past 8 years. Along with dance, Annika's diverse interests encompass theater, singing, debating, creative writing, technology, politics, podcasts, and karate. These passions manifest in her extracurricular and volunteer activities. As a member of the Holmdel Theater Guild, she has contributed to various productions, including The Addams Family, Empowered, A Midsummer Night's Dream, and the Spring Festival of Student Works. Once on This Island, Phoenix Productions welcomed her as the assistant properties manager, a role she thoroughly enjoyed. Annika actively participates in multiple clubs and organizations at her high school, such as the Arts and Entertainment Club, Technology Student Association, Junior State of America, and Freshman Student Council. She has achieved national recognition and received awards for her involvement. Additionally, she holds a first-degree junior black belt in karate and is determined to earn her senior black belt. Annika's commitment to equalizing opportunities in STEAM fields motivated her to join the teen board of SteamPark Inc., a non-profit organization in Monmouth County, SteamPark Inc. focuses on providing educational, emotional, and wellness support to underprivileged children.
Maimuna Seikh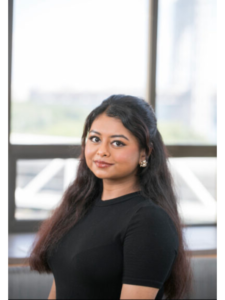 A Junior at New York University majoring in Global Public Health & Sociology with a minor in Bioethics. She is an aspiring Clinical Ethicist with an interest in organ donation and resource scarcity. 
Maggie Wise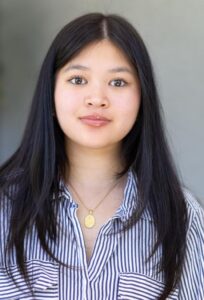 Maggie Wise is in the class of 2024 at Oakwood High School in Los Angeles, California. She is the leader of the Asian Affinity and the Adoption Alliance groups at her school. She is also a part of many other clubs, such as Oakwood Students for Progressive Reform (a student-led discussion space to talk about current issues of matter), Oakwood AIDS Walk Team, Student Admissions Committee, and Yearbook. She is also very passionate in music, having played piano for 13 years. She currently takes classical piano lessons at the Colburn School of Performing Arts and is a member of her high school's jazz band. She has attended music intensive programs for the last five summers. Maggie enjoys reading, photography, traveling, trying new foods, concerts, creating Spotify playlists, and going to the movies. 
Since 2021, Maggie has been a peer educator for the Peer Education Program of Los Angeles (PEPLA). PEPLA helps educate teenagers, who normally would not be able to easily access information about sexual health, about sexual agency and HIV prevention, visiting high schools, probation centers, residential facilities, and youth organizations. The organization was founded because of an unequal power dynamic between adult educators and teenage students. PEPLA's objective is to break down the communication barrier caused by this power dynamic by having teenagers talk to their fellow teenagers. 
Maggie recently attended the Health & Society Institute Pre-College Program, focused on medical anthropology and research ethics, at Barnard College, Columbia University. She continued her work in sexual health education by making her final research report on the birth experience of women of color living with HIV. She hopes to further develop this research once she attends college.
Celeste Heine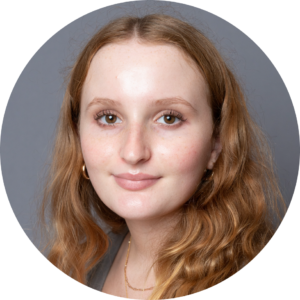 My name is Celeste Heine and I am currently seventeen years old, going into my senior year of high school at Trinity School in New York City. I moved here during the summer of 2021 from Santa Monica, California, where I attended Harvard Westlake school from grades seven through nine. My interests in philosophy and medicine led me to reach out to Dr. Lita in the spring semester of my junior year when I started working for BEI as an intern. I've continued to be inspired by her work in the bioethical sphere every day since!
Amna Liaquat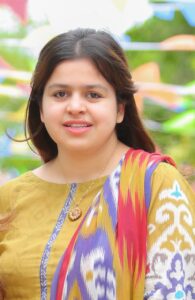 Meet Amna Liaquat – a brilliant final-year MBBS student illuminating the intersection of medicine and community upliftment. Beyond textbooks, I dominate the cricket field and excel in shot put, embodying a vibrant approach to life. A relentless advocate for health, I shine as a driving force within the Blood Donor Society and Patient Welfare Society.
Guiding global medical exchanges as a Local Exchange Officer in IFMSA's Pioneer Cabinet, I sparkle amidst diversity, fostering collective brilliance. Across borders, I co-author impactful research papers that redefine medical boundaries, even collaborating with international luminaries.
I've honed my skills at esteemed institutions like Aga Khan University and Mayo Hospital, propelling me toward excellence. This internship is my meteoric trajectory, merging medical finesse with community transformation. Embark on this radiant journey with me.
Pushpa Jadhav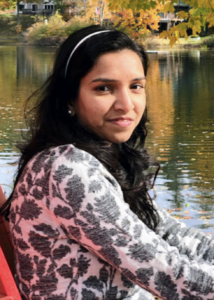 Pushpa Jadhav is a recent graduate with a Master's in Computer Application, at SRM Institute of Science and Technology, formerly SRM University,  located in Tamil Nadu, India. SRM stands for Supplier Relationship Management. She is passionate about healthcare and ethics, and she is eager to learn more about the ethical implications of emerging technologies in healthcare. She has skills in Java, Selenium, Manual Testing, JavaScript, Git/GitHub, and precise attention to detail. She currently resides in Boston, Massachusetts, with her husband and 10-year-old son.
After graduating from Mumbai University in 2011 with a B.A. in Economics, Pushpa took a break from education to take care of her family. When her child started school, she resumed her education because she had always been fascinated by the field of computer science and wanted to learn more. SRM University gave her the opportunity to pursue her Master's in Computer Application. Her field of interest is software testing, healthcare, and life science.
Pushpa is a hard worker and a quick learner. She is also a team player and is always willing to help others. She is confident that her skills and experience would make her an asset to the team at Global Bioethics. She is eager to learn and grow in this field, and she is excited to be a part of the team that is shaping the future of healthcare ethics.