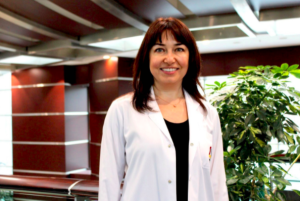 Perihan Elif EKMEKCİ (M.D., Ph.D.) graduated from Ankara University School of Medicine (1995), and she also has bachelor's degree from Anadolu University Business Administration Faculty (2009).
In 2014 she accomplished her Ph.D. degree on History of Medicine and Ethics. She was a Fogarty Fellow in 2013-2014 and she had her master's certificate on research ethics through this fellowship at Harvard University. Dr Ekmekci was a research fellow in Imperial College Tanaka Business school in 2006. In 2015 she was the Turkish fellow for Western Institutional Review Board Research Ethics Program.
She served as the head of EU relations department of Ministry of Health Turkey (2007-2016) and developed several projects in alliance with the EU. She was the Turkish representative for the European Center for Disease Control Advisory Board and served in this position between years 2011-2016.
Currently she is the head of History of Medicine and Ethics department and deputy dean of TOBB ETU School of Medicine.
She is serving as the head of Intuitional Review Board of TOBB ETU and executive committee member of Health Sciences Institute of TOBB ETU. She is a member of open science committee of TOBB ETU.
She established International Bioethics Unit at TOBB ETU in 2019 and she is the head of this unit since then. She is a member of World Association for Medical Law and the International Forum of Teachers of the UNESCO Chair in Bioethics.
She has several publications in distinguished journals on ethics and history of medicine. Dr Ekmekci is the co-author of the book titled "Artificial intelligence and Bioethics" published by Springer in 2020. She is teaching undergraduate and postgraduate courses on history of medicine and ethics.