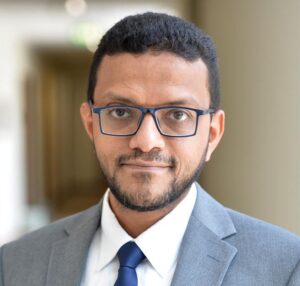 Ghaiath Hussein, MBBS, MSc, PhD Assistant professor in medical ethics and law, School of Medicine, Trinity College Dublin, University of Dublin, Ireland
Ghaiath is a medical doctor, bioethicist, and public health specialist. He holds a medical degree (MBBS), a master's in bioethics from the University of Toronto (Canada), and a PhD in bioethics from the University of Birmingham (UK). He has worked in the fields of health research, health policy and field epidemiology with a focus on humanitarian settings.
His major area of expertise and contribution is in bioethics with a focus on research ethics, public health ethics and humanitarian ethics. He has been teaching bioethics-related topics and courses for undergraduate and postgraduate students, residents, healthcare providers, and public health practitioners since 2010. He has been also actively involved in ethics-related consultations, especially in developing countries with some major agencies, including the WHO, UNESCO, and EMPHNET. He also contributed to some national and international books and training manuals of bioethics with a focus on the ethical issues related to clinical practice, health research, and global health. Recent studies focus on Research Ethics in complex humanitarian emergencies and north-south global ethics dialogue. Dr Hussein is a member of the Ethics Review Board of Médecins Sans Frontières (MSF – ERB) since 2020 and a member of the Ukraine Clinical Research Support Initiative (UCRSI).